Our Services
When Firmin Construction Corporation takes on a project, we aim for quality that's on time and within budget.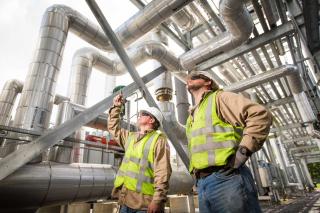 Quality Construction Services Since 1965
Firmin Construction Corporation specializes in the design and construction of commercial and industrial facilities in the greater Baton Rouge area. Our mission is to work safely and capably using quality materials to produce a valuable asset for our clients continual use. We are fully insured, OSHA-certified and meet a number of other strict standards required for the construction of commercial and industrial projects.
In addition to the quality of our work and our specialized abilities, at Firmin we pride ourselves on being easy to work with. We keep projects within budget, on schedule, don't nickel-and-dime our customers, and pay close attention to maintaining a safe working environment. Ask our current and past customers (and we'd be happy to provide you with references)—our reputation speaks for itself.
We have completed projects in a variety of sectors:
Arts and Cultural Institutions
Civil/Industrial Construction
Nursing Home/Assisted Living
Our Priority Is Making Sure The Needs Of Our Clients Are Met.
Firmin Construction worked with us from the design concept to the finished building of our new 20,000 sq. ft. manufacturing facility on Mammoth Ave. Even after completion, they have been great about making modifications, additions, and just being there when we need them helping our place of business to be better. They are a full-featured general contractor and handled all aspects of building our company's new home. Would highly recommend them to build your building.
We've used Firmin on new construction and renovation projects. These guys work as a team and go the extra mile starting in the design phase. Firmin's communication with the owner, as well as the tenant, is second to none. The communication, workmanship, and follow-up on all items (big or small) is what impressed me most. We look forward to future projects with Firmin Construction.
I wanted to express my extreme pleasure and gratitude to Firmin Construction for the work they did for me and my business. After the flood in 2016, they were in constant contact with me and have consistently gone above and beyond what I ever expected from a contractor. I wouldn't use anyone else. Thanks, Pete!
Excellent company all your construction needs
We recently had Firmin Construction build us a very large truck dealership located on O'Neal Ln in Baton Rouge. Our experience with Firmin was first class. They are a locally owned, family-oriented business with years and years of knowledge and experience, the kind of folks you want to do business with. They were very helpful and informative every step of the way, and their workmanship is second to none. Their knowledgeable and professional team of employees worked 1 on 1 with us on a daily basis to ensure that all of our needs were met in the most economical way possible. Thanks to Firmin Construction a long-time dream of ours has become a reality. We could not have asked for a better contractor, and we would definitely recommend them to anybody. Thanks Firmin!
Outstanding company with great employees who really care about you the customer, Pete and his team did a great job, and what I really find refreshing is when things don't go as planned ( and not often) they are upfront and honest with you. To Jay, Justin, and all the Firmin employees, thanks for a Great, quality job!!
I worked with Firmin on a commercial remodel project for an office renovation. They performed excellent work and was always courtesy and professional. Building came out beautifully. Highly recommend.